Real Estate Solution (RES) continues to provide excellent ways to connect real estate professionals with leads and new clients with an extensive and growing list of features.
One of the latest feature we have added to the Search On Map feature is the ability for visitors to your website to search property listings by Building Type. Potential homebuyers can now search by Houses, Duplexes, Triplexes, Fourplexes, All Multiplexes, and Other Buildings.
This makes searching real estate properties more precise and allows your visitors to find exactly the type of building they are interested in without having to search through other listings.
This means that they are more likely to find the right building for them and get in touch with you for more information.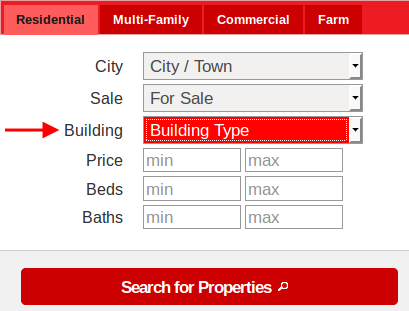 Along the left side of your Search On Map feature, you will notice a building type dropdown with options to filter on (Houses, Duplexes, Triplexes, Fourplexes, All Multiplexes, and Other Buildings).
This feature is already integrated into your map search, and can also be added to the other property search options on your RES website. This is a powerful addition to the property search on your RES website that already includes the ability to search residential listings by Location (City/Town), Price Range, Sale or Lease, and Number of Bedrooms and Bathrooms.
We are proud to bring this new feature to our real estate professionals and this is just the first in a line of new features in develop. For more information on all of the gret features you get with a website from Real Estate Solution, contact us today!