Extend your blogging and news articles with the new News Feature which will display your news submissions on your Real Estate Solution Website. Completely customizable to your site, the News Feature is available to be integrated into your website and customized to your site's design.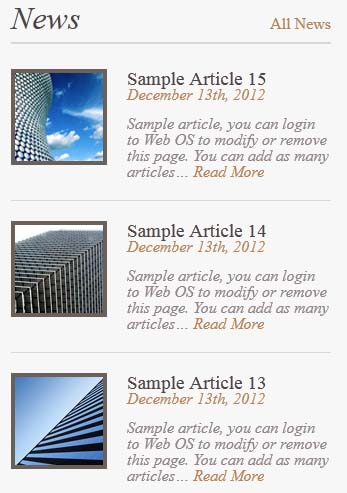 Have as many news articles as you like, and preview as many or as few on your homepage. The "All News" link will bring clients to a listing of all your articles so they can continue reading. Each article will have Facebook buttons to have users recommend and share your article with their Facebook friends.
Designed and Displayed For Your Brand
The News Feature is personalized with your brand in mind, displaying your colours and a design that fits your Real Estate Solution Website. Attributes like the width and how many articles are displayed per page are all tailored to your needs.
RSS Subscriptions
Keep your clients up to date with new articles with the RSS and Atom subscription feeds. Clients can subscribe to your articles by adding the RSS or Atom feed that is located within your article page. Your articles will appear in their feed so they never miss an update!
Comment with Social Media
The News Feature makes it possible to create a forum for discussion with the incorporation of social media commenting. Users can easily log in to Facebook, Yahoo, AOL or Hotmail to leave a comment on an article. If a user chooses Facebook, they have the option to add their article response on their Facebook page so all their friends can see it, which increases your article's audience and page views.