Reach Your On-The-Go Clients
Online business is no longer just a desk job and with the rise in smartphone and tablet use, business is constantly on-the-go, and so are your clients. They need the flexibility to find what they need while they're out, and we have the solution. Real Estate Solution Mobile Websites have a mobile design to display your listings and information seamlessly to all mobile users, at any time.
User-Friendly Mobile Design
Your Real Estate Solution Mobile Website will provide all the features of your Real Estate Website, but with the simplicity of mobile browsing. Users searching on mobile devices will automatically be redirected to the mobile site to view a comprehensive design that features all the content on your Real Estate Website.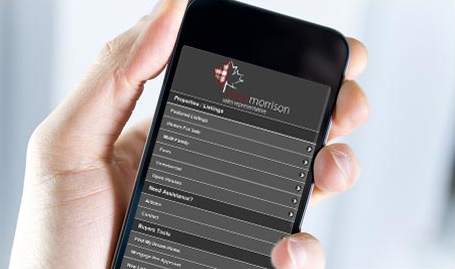 Nothing is lost in translation. With your Real Estate Solutions Mobile Website, any changes you make will update on your mobile site. Have a branded look? Your branded look will carry through to your mobile page effortlessly
Your mobile site will always look the best, whether it's on a smartphone or a tablet. Users will have optimized search results allowing them to customize their searches, browse listings, see amenities near a listing and view photo and video galleries.
GPS-Enabled Searching
Using the power of their smartphone's GPS, your Real Estate Mobile Website will provide relevant listings near their location on a map. If they happen to be scouring a certain neighbourhood by foot or car, the map will update as they travel, providing them with more options and a better utilization of their time.
Mobile Lead Generation
Most important, you need your prospective clients to be able to contact you. That's why with Real Estate Solution Mobile Websites, we have your contact information readily available to the user with a one-touch call button. Users can connect by using their Facebook accounts, or by entering in their own details, making it easy for you to follow up.