TJ Nehmetallah and Kristyn Webb are Sales Representatives with Royal LePage Binder Real Estate who bring experience and a passion for real estate to every transaction for their clients. Whether you're buying or selling, Specializing in the areas including Tilbury, Kingsville and Leamington, TJ and Kristyn offer results that move you!
As an up-and-coming real estate team, TJ x Kristyn chose Real Estate Solution to help them get their business started on the right foot and make a name for themselves in the competitive Windsor-Essex real estate market. From building their brand to custom designing and developing a real estate website for their team and providing ongoing lead generation services, we continue to work with TJ and Kristyn to help them get more leads and grow their brand.
Expectation met. team branding | custom real estate website | social media marketing | Print | Support


agent & Team real estate branding
We first had the opportunity to work with TJ Nehmetallah as a solo agent before their team was formed. TJ was a new agent and needed a brand developed completely from scratch. We created a simple yet distinctive and professional brand for him, including a logo, yard signs, business cards and social media graphics. This brand was then extended to his custom real estate website, which was designed with a look and feel that matched TJ's new brand.
When TJ and Kristyn formed a real estate team, we extended TJ's brand to represent both of them. Their logo, business cards, social media graphics and website design were all updated to represent them as a team while being consistent with TJ's individual brand, making sure that the recognition that had been built up for it wasn't lost.
Since developing their initial branding items, our work with TJ and Kristyn's brand has included designing a number of custom branding items specifically to meet their needs including large format outdoor signs, flag signs, billboards, a marketing booklet, postcards, wine labels, indoor signage and a video showing their most recent sold properties.
Custom Real Estate team Website
TJ's individual agent website was designed to present a clean, modern and professional image. Making use of his photography, it highlighted his availability through whichever platform his clients wanted to use. His existing website was expanded to represent the team without having to be redeveloped from scratch. The look and feel was maintained on the team website just like it was with their brand. In addition to lead capture tools, automated property listings and a news section to highlight their latest properties and other real estate news, we also included a sold property gallery on their website where they can easily spotlight their most recent sold homes.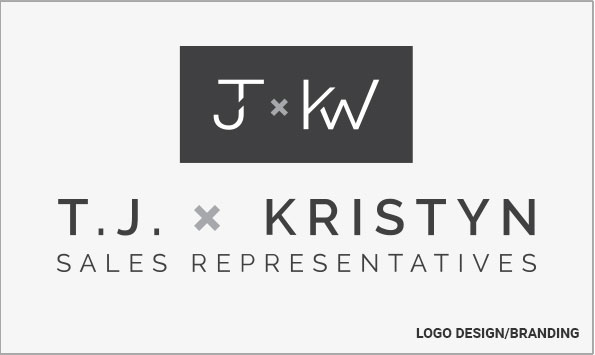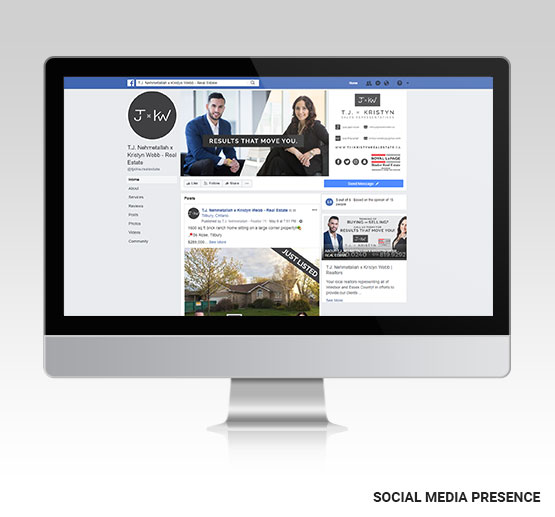 ongoing real estate lead generation services
We continue to work with TJ and Kristyn to bring them more leads through ongoing lead gen services. With social media marketing, we highlight their newest listings as well as giveaways and other messages on Facebook to bring more new leads to their Facebook page. Google Ads help bring more people who are interested in real estate in Windsor and Essex County to their website, while support services mean that Real Estate Solution is there whenever they need a print or branding design or a content update on their website.
Learn More About How Real Estate Solution Can Help You
TJ and Kristyn are just one of the teams that we've worked with to help bring them more leads and help them do more online and in print. Whether you're an individual agent or team, and are a new or experienced agent, let us help you grow your business. To find out more, fill out the form below.