We know how important it is for our Real Estate Solutions customers to have great looking print materials created with high-quality materials. If you're looking to get new yard signs or door hangers to help you reach more new clients, this is a great time to order them! For a limited time, you can get 10% off the cost of your print for 4mm yard signs and door hangers.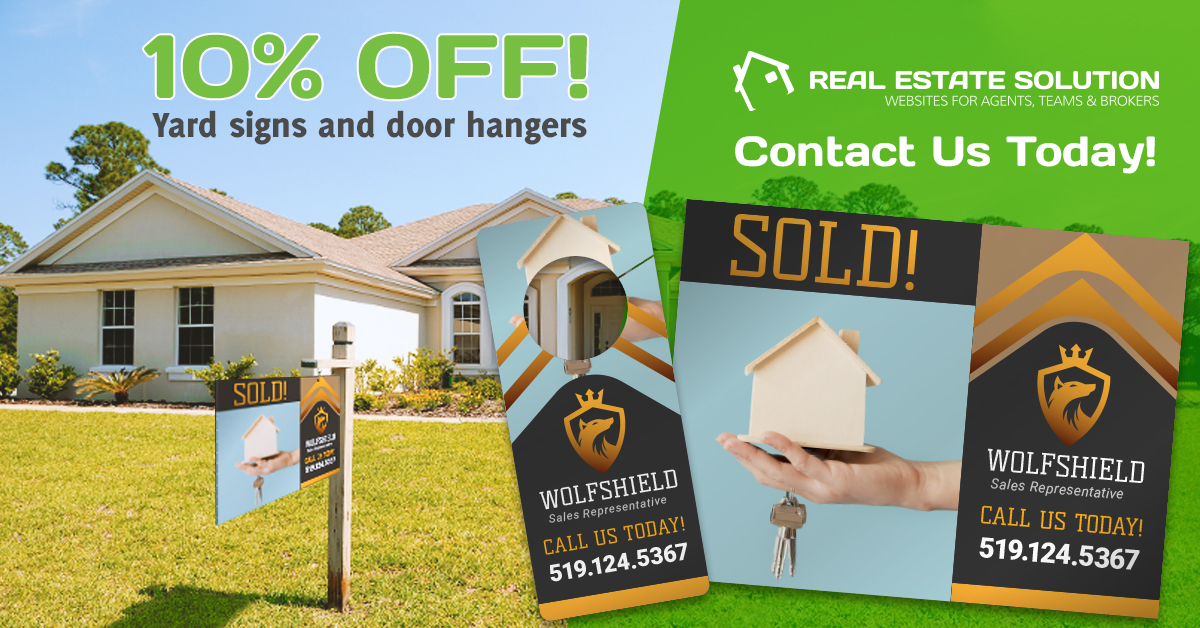 Save 10% on 4mm Coroplast Yard Sign Printing for Real Estate Agents - While Supplies Last! Includes Free Shipping!
Coroplast yard signs are the perfect way to show off your For Sale or Sold properties, or to advertise an open house. These yard signs are very durable so you don't have to worry about them bending or tearing like you do with some other materials, and your designs will show up beautifully on coroplast. No matter what quantity you need, or how many types of signs you want to order, you can still save 10% for a limited time on the print cost of your yard signs from Real Estate Solution. Whether you're an existing client who wants to order more signs while this great offer is available, or you're a new client that is looking to order yard signs with us for the first time, now is a great time to talk to us about your next yard sign print order.
Save 10% on Door Hanger Printing - While Supplies Last! Includes Free Shipping!
Door hangers can help you introduce yourself to prospective clients and get your brand out to the public. With the 10% discount on door hangers that's available now from Real Estate Solution, you can get high-quality door hangers to market yourself, show off your latest sold property or deliver any other message about your real estate services you want to deliver.
Real Estate Agent Design and Branding Services
If you don't have an existing yard sign design or door hanger design, we can help you with that, too! Our designers can custom create great looking signs and hangers around your brand and messages. If you don't have a logo or brand yet, we can develop your complete brand from start to finish, including all the branding items you need to stand out in your local real estate market.
Learn More About How You Can Save 10% on Yard Signs & Door Hangers
To learn more about how you can save 10% on print costs for your yard signs and door hangers, and about our complete range of real estate branding, design services and websites, contact us today by filling out the form below!