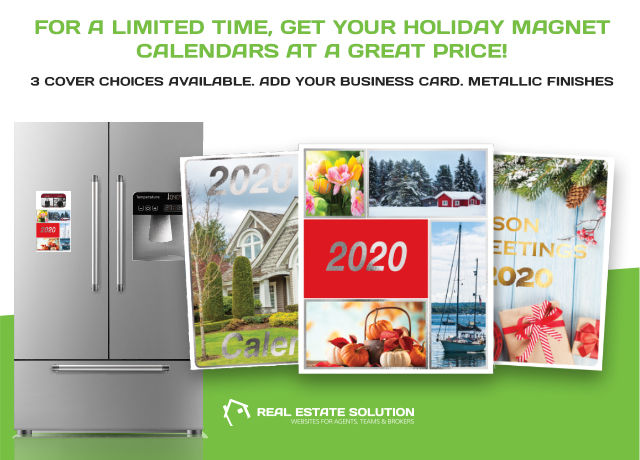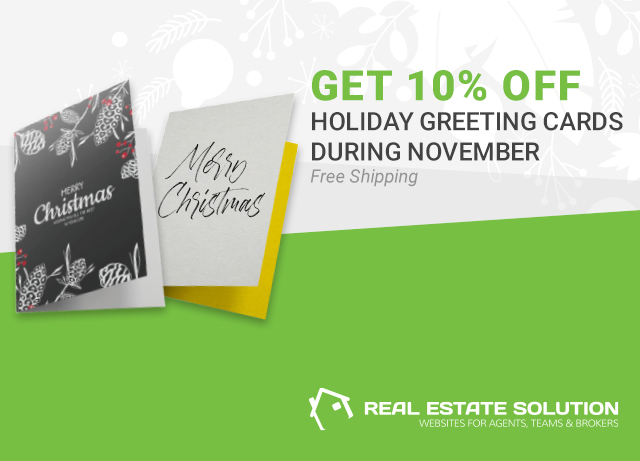 The holiday season is a great time for Realtors and Real Estate professionals to reconnect with their clients and leave them with a great, lasting impression for the new year. Stay top of mind during and after the holidays this year, with Magnetic calendars and 10% Off Greeting Cards or from Real Estate Solution.
Holiday Magnetic Calendars - Available for a Limited Time
A magnetic calendar not only looks great, but can stay up in your client's home throughout the year. This means that even if they don't need your real estate services right now, they have a reminder up in case they need help buying or selling a home later next year.
2020 magnetic calendars are only available for a limited time and are available at a great price with FREE SHIPPING! Check out our prices for the most popular magnetic calendar order sizes:
| | | | |
| --- | --- | --- | --- |
| Quantity | Price | Quantity | Price |
| 250 | $210.00 + HST | 2,500 | $1,750 + HST |
| 500 | $375.00 + HST | 5,000 | $3,350 + HST |
| 1,000 | $710.00 + HST | | |
3 Great Designs for Your Magnetic Calendar
You have three great cover designs you can choose from for your holiday magnet calendars: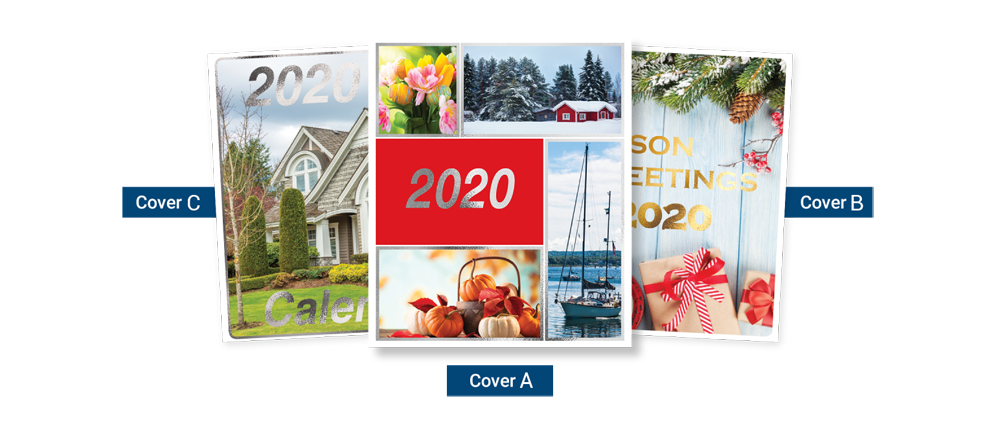 Your 2020 magnet calendar also comes with a brand new metallic finish in either gold or silver, giving it that extra touch and helping to make sure that your clients will proudly display in their homes. Plus, you can easily add your business card for that personalized touch that connects this great gift back to your brand and real estate services.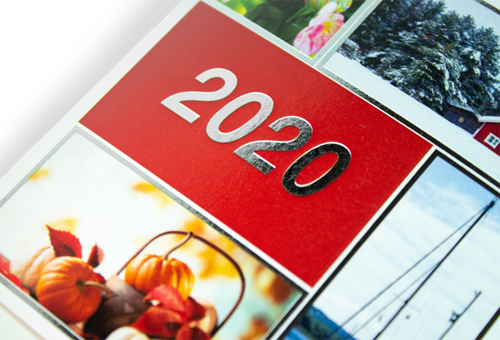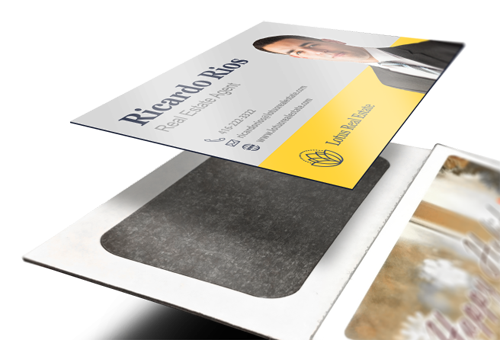 Each month features its own appealing, seasonal image. Take a look at the pages for each month of the calendar for yourself:


Custom Holiday Greeting Cards
Sending out greeting cards for the holidays is always a perfect way to reach out to your past and present clients, and to wish them the best for the season and the year to come. A custom-designed holiday greeting card is not only a great way to send a warm message this year but also to stand out from the crowd with a unique card design.
Save 10% and Get Free Shipping on Greeting Cards in November 2019
Now is the perfect time to order your holiday greetings cards as you will save 10% on the cost of print and FREE SHIPPING. Order now to take advantage of this great offer, and to make sure you receive your cards in time to send them out for the holidays.
10" x 7" with blank white envelopes
Quantities range from 10 to 100,000
100 → $97 + 10% OFF + Free Shipping
250 → $152 + 10% OFF + Free Shipping
500 → $228 + 10% OFF + Free Shipping
Custom Designs for Your Holiday Greeting Cards
Need a greeting card designed? We can put together a custom design that includes your photo and logo as well as the look and message you want to deliver. You will also have your choice of matte or UV finish, and can select other custom options including metallic finishes and more. We offer great rates on design to go along with the special offer on print for your holiday cards.
Find Out More About Holiday Greeting Cards and Magnetic Calendars
To find out more about how you can get your magnetic calendars and custom greeting cards in time to send out for the holidays, contact us today.
* 10% discount on greeting cards valid from November 12th through November 30th, 2019.